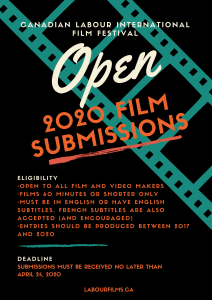 Submissions must be received no later than April 24, 2020 online using FilmFreeway.
The Canadian Labour International Film Festival features films made by, for, and about the world of work and those who do it, in Canada and internationally. The films we showcase are about unionized workers, as well as those not represented by unions. We encourage projects regarding any and every aspect of work, as well as issues affecting work or workers. The festival draws trade unionists, community members, youth, activists, students, educators, artists, and allies from across North America and one day, we hope, the world.
Eligibility
We are looking for films on a wide spectrum of labour and worker issues, including films about: privatization, youth, First Nations people, people of colour, immigrants, refugees, detainees, health and safety, resistance, art, poetry, women, lesbian, gay, bisexual and transgender people, taxi drivers, truck drivers, rickshaw drivers – anyone who does anything considered work.
We encourage the widest possible variety of films: from documentaries to drama to poetry/poetic treatments to comedy and animation.
• The Festival is open to all film and video makers.
• The Festival is accepts films 60 minutes or shorter only
• Films and videos must be in English or have English subtitles. French subtitles are also accepted (and encouraged).
• Entries should be produced between 2017 and 2020.
Preference will be given to films not yet widely distributed.
Deadline
To be considered for the festival, submissions must be received through FilmFreeway no later than April 24, 2020.