CLiFF is extremely excited to co-present 'The Island of Shadows' with the Toronto Korean Film Festival on Sunday, May the 31st at 4pm at Innis Town Hall!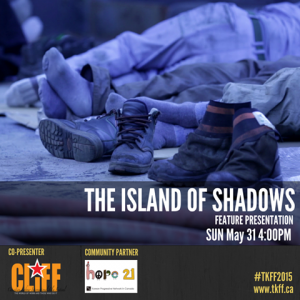 The Island of Shadows
Directed by Kim Jeong Keun
98 minutes, 2015
Korean language, with English subtitles
$10
About the film: South Korea's world-class shipuilding industry has always been a buttress to the country's booming economy. It is thus no surprise that Hanjin Shipyard was once a workplace charged with high energies, honor and community spirit. But today, it is a vessel of desolation and divisions. Labor relations are tense and unstable, some employees have committed suicide, and there is no end in sight for the ongoing strike. Funded by the 2011 'Bus of Hope' project in support of the labor struggle, 'The Island of Shadows' explores the 30-year old darkness blanketing the shipyard, bringing to light the real struggles of individual goals and dreams against the power giants of the capitalist world.
For more information about the Toronto Korean Film Festival and how to purchase tickets for this screening, please visit: http://www.tkff.ca/2015theislandofshadows.html