Join us for a screening of 'Deux Jours, Une Nuit' (Two Days, One Night) at 7:00 pm on Tuesday, May the 5th at the Alliance Francaise in Toronto (24 Spadina Road).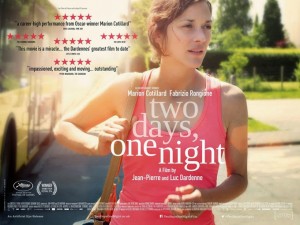 Deux Jours, Une Nuit (Two Days, One Night)
Directed by Jean-Pierre & Luc Dardenne
95 minutes, 2013, PG
French language, with English subtitles
$10/ Pay What You Can
About the film: Sandra (Cotillard) has just returned to work after recovering from an illness. Realizing that the company can operate with one less employee, management tells Sandra she is to be let go while the remaining employees will each receive a bonus. Over the course of a weekend, Sandra, often with the help of her loving husband (Fabio Rongione), races against time to convince each of her fellow co-workers to sacrifice their much-needed bonuses in order for her to keep her job. With each encounter, Sandra is brought into a different world with unexpected results while her fate hangs in the balance. The Dardennes have brought an extremely relevant social inquiry and turned it into a powerful statement on community solidarity.
Co-presented by Canadian Labour International Film Festival (CLiFF) and Liaison of Independent Filmmakers of Toronto (LIFT).
Co-sponsored by  Alliance Française de Toronto – Centre culturel