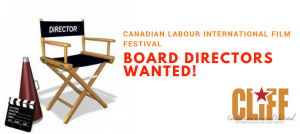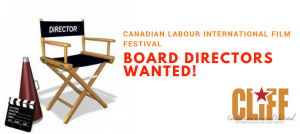 Have an interest in films and social justice? Then consider joining the Canadian Labour International Film Festival (CLIFF) board of directors!
CLIFF is a national grassroots, activist-oriented film festival which showcases international and Canadian films focusing on work, workers, and the labour movement.
We are seeking committed and enthusiastic volunteers as we enter into our 10th year of the festival.
We are looking for volunteers with a variety of interests and skill sets, including: finances, fundraising, outreach, communications, event-planning, and logistics.
We are looking for volunteers who can commit approximately 5-10 hours per month (possibly more during the lead up to our November festival or for any special events) for a minimum of one-year; attend monthly meetings (in person in Toronto or via phone), represent CLIFF at community, film festival, or labour events, and assist with other CLIFF projects.
This is a great opportunity for those volunteers looking to share and develop their skills and see how a film festival is organized.
Meetings are held in-person in Toronto, Ontario, though volunteers can be based anywhere in Canada.
If you are interested, please email us at info[at]labourfilms.caand include "Board of Directors" in the subject line. Please provide us with a letter as to why you are interested in joining CLIFF and some of the skills you would like to develop or share, as well as a copy of your CV/resume.