A Living Wage
0:20:00 (United States) Dan Albright, Andy Keyes – English
At the front lines of the struggle in Boston for a $15 minimum wage and union rights are Darius Cephas, a McDonald"™s fry cook, and Tiny Figueroa, barista at Dunkin"™ Donuts. Over the course of one year, A LIVING WAGE follows Tiny and Darius as they organize for economic justice, help build a major grassroots social movement and force local politicians into action.
Trailer: https://vimeo.com/151856576
Website: http://www.alivingwagefilm.com
Documentary, Short, Student
Armenian Papers
0:06:33 (Belgium) Ornella Macchia – Armenian
"At the market of Yerevan, a merchant invites us to share his fruits and his history". Accompanied by birds, we discover the life of this man full of the colours of Armenia…"
Trailer: https://vimeo.com/130663138
Website: http://www.studiotabassco.com/
Animation, Documentary, Short, Student
Austerity
0:14:59 (Cyprus) Renos Gavris – Modern Greek (1453-)
A story about the preservation of a man's dignity within the recent times of the Greek financial crisis, as well as his personal uprising against the severe austerity measures imposed on the common people. Inspired by true events.
Trailer: https://vimeo.com/114196015
Website: http://www.austerityfilm.com
Short, Student
Baits and Hooks
0:09:50 (Switzerland) Luka Popadić – Serbian
Two fishing buddies, Big brother and some fish stew. BAITS AND HOOKS is a black comedy inspired by the style oft he Czech New Wave about how two workers of an old factory face the transition from socialism to capitalism. A short and sweet film about friendship and cooking but also about a generation of workers who have to deal with the changed system.
Short Film
Batas
0:09:50 (Indonesia) Ervan Aditya – Indonesian
Adila is a young moslem girl. She and her sister is going to an interview in an excellent company in Jakarta. While her sister is being interviewed, she's called by some of her relatives, one of them tells her that the company usually rejects girl that wears hijab. Adila gets nervous, she's forced to choose between her beliefs and future job.
Short Film
Canada's Rand Formula
27:00:00 (Canada) English and French
In 1946, after a bitter 99-day strike that pitted the fledgling United Autoworkers (UAW) Local 200 against the powerful Ford Motor Company in Windsor, Ontario, Justice Ivan Rand of the Supreme Court of Canada handed down a landmark decision. Because the union provides representation to all bargaining unit members, including those who are not union members, it is entitled to receive payment for all the services it provides. No employee is obliged to become a union member; however, the employer deducts union dues at source from the salaries of all bargaining unit employees, whether they are union members or not, and remits these dues to the union.
Every Row a Path
0:29:00 (United States) Jill Freidberg – English, Spanish
In the berry fields of Washington State's Skagit valley, migrant teenage girls struggle to balance family and school with back-breaking agricultural work. Statistically, they are destined to fail, but five young women are determined to beat those odds. A collaboration between documentary filmmaker, Jill Freidberg, and the migrant youth of Mount Vernon, Every Row a Path opens a window onto the daily struggles and triumphs of being young, migrant, and female in rural America.
Trailer: https://vimeo.com/161873349
Website: http://everyrow.com
Documentary, Short Film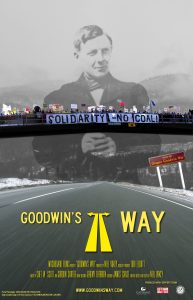 Goodwin's Way
0:55:51 (Canada) Neil Vokey – English
Almost a century after controversial labour activist Ginger Goodwin was shot, residents of Cumberland, B.C. find themselves at a crossroads when highway signs honouring his memory disappear. By removing the signs marking "Ginger Goodwin Way", supporters claim that the provincial government aimed to erase a powerful legacy of workers' rights. Meanwhile, his critics argue that Goodwin was nothing more than a lawbreaker, a draft-dodger, and a rabble-rouser. The notorious Cumberland mineworker took part in some of Canada's most important labour battles of the early 1900s. Blackballed after the bitter 1912 Vancouver Island miner's strike, Goodwin fought for the eight-hour workday at the height of World War I, while boldly opposing the conscription of his fellow workers. His influence was so great that his death in 1918 prompted Canada's first-ever general strike. Now, just two kilometres from the road that once bore his name, clouds loom over the site of a newly-proposed coal mine. While Cumberland's young families dream of transcending their town's traditional reliance on a boom-and-bust resource economy, the Raven Coal Project threatens to return the region to a era that left boarded-up buildings, slag heaps, and industrial clean-up sites in its wake. Goodwin's Way examines a town's grassroots resistance to a coal-powered future, as Cumberland residents reconnect with Goodwin's legacy of passionate defiance: his "way".
Website: http://www.goodwinsway.com
Twitter @goodwinsway
Documentary, Feature
I am
0:03:00 (France) Jacques Collin – French
This is a great day for Mr. Bartleby. This is the culmination of his career he will deliver a speech later to a major acquisition that has just finalized
Short Film
I am a Machine
0:06:00 (Canada) Pierre Luc Junet – English
Based on a poem of Morris Rosenfeld spoken in yiddish, a jewish textile worker in Montreal rediscovers the past of her community and the struggles of the jewish working class. If women give their effort, energy, time and life doing housework alone, is this not labour? This is free labour! We did not volunteer to do all the housework because of our gender; even if society teaches us that housework is a "woman's responsibility". Not anymore! Let's use our hand not for cleaning, but raise it to say: "No free labour! Share responsibilities equally!"
Documentary, Experimental, Short, Student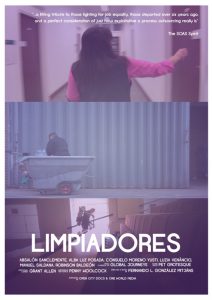 Limpiadores
0:39:19 (United Kingdom) Fernando Mitjans – English, Portuguese, Spanish
Migrating is seldom an easy solution. It is rather, a journey that begins with a journey. 'Limpiadores' follow three workers during their journeys to, and into work, accompanying them throughout their early morning shifts. We hear about their migration experiences, disillusion towards the UK and hopes of a better future while they sweep, mop and organise offices and classrooms of universities still submerged in the night.
Trailer: https://www.youtube.com/watch?v=Upb3OK-jclM
Website: http://www.limpiadoresdoc.com
Documentary, Short, Student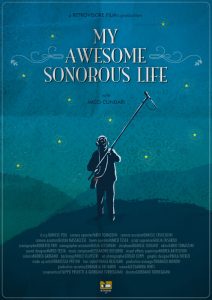 My Awesome Sonorous Life
0:06:58 (Italy) Giordano Torreggiani
Lorenzo is a 85 years old on set sound recordist who has been recording and archiving all sorts of sound all his life: every now and then he loves listening back to them, remembering in this way, past moments. Lorenzo is looking for a sound, the very last sound that will complete his lifetime collection.
Trailer: https://www.youtube.com/watch?v=pgKTOWyNwtY
Twitter @RetrovisoreFilm
Short Film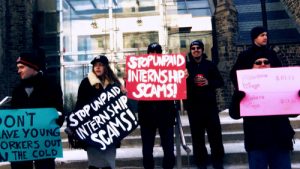 Pay Your Interns!
0:45:00 (Canada) Cynthia Helen Pandev – English
Pay Your Interns! is a brutally honest, unapologetic critique of the shady practice of Canadian employers turning a blind eye to the Employment Standards Act by "hiring" interns (mostly female), who are expected to perform the work of a "paid" employee, for free! Pay your interns! is not just informative and provocative, it's fun, too! And, the film's message is simple and clear – you guessed it – Pay Your Interns!
Trailer: https://youtu.be/NMAJaEH3Fao
Website: http://www.cowgirls-can-cut-it-films.com
Twitter @cpandev1565
Short Film
***FOR SCREENING AT THE TORONTO LOCATION ONLY***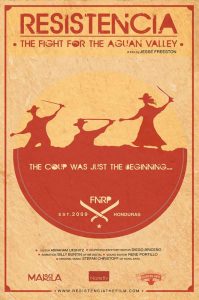 Resistencia: The Fight for the Aguan Valley
1:31:45 (Canada) Jesse Freeston – English, French, Spanish
When the first military coup in a generation ousted the only president they ever believed in, these audacious farmers took over the plantations of the most powerful man in the country. With no plans to ever give them back.
Trailer: http://vimeo.com/116023226
Website: http://www.resistenciathefilm.com
Documentary, Feature
STRIKE 16
0:14:10 (Canada) Patricia Chong – English
In 1999, the part-time cashiers and clerks of the University of Toronto Bookstore unionized with the Canadian Union of Public Employees (CUPE) Local 3261. 16 years ago, in the summer of 2000, these workers went on a 13-week strike for their first union contract. This is their story.
Documentary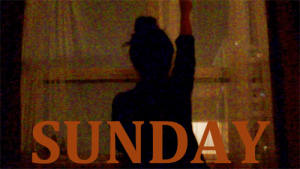 Sunday
0:01:16 (Canada) Burçu Ozturk – English
A young couple on a typical Sunday. They both have jobs, work all week, and only have one day off – Sunday. But she does not get the day off! She still has to work: cooking, cleaning, washing, shopping….alone. The man does not. If women give their effort, energy, time and life doing housework alone, is this not labour? This is free labour! We did not volunteer to do all the housework because of our gender; even if society teaches us that housework is a "woman's responsibility". Not anymore! Let's use our hand not for cleaning, but raise it to say: "No free labour! Share responsibilities equally!"
Short Film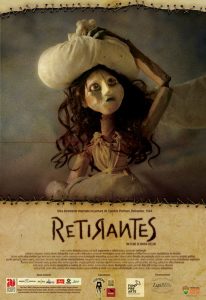 The Migrants- (Retirantes)
0:13:23 (Brazil) Maira Teixeira Coelho – Portuguese
"The short film The Migrants – Retirantes tells the story of a woman traveling through an arid, depopulated region, unable to feed her baby. It presents a dreamlike vision that uses the unique elements of the area where the film is set. A religious procession praying for help, children, local peasants and a group playing traditional music are some of the figures who appear in this sensitive, magical portrait of a suffering people and their difficulties and idiosyncrasies"
Trailer: https://vimeo.com/118376506
Animation, Experimental, Short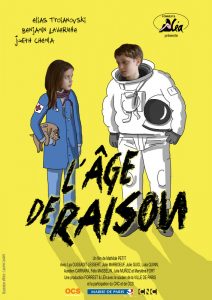 The Age of Reason
0:16:07 (France) Mathilde Petit – French
In Pablo's world, each citizen chooses his career at the age of seven with disastrous consequences for society. Pablo and his friends decide to take matters into their own hands.
Short Film
The Real Work
0:05:10 (United States) Jamie McCallum – English
The video essay interrogates the concept of "hard work" through interviews and a social experiment in which 15 people dig holes in a field during a tempestuous Vermont day.
Documentary, Short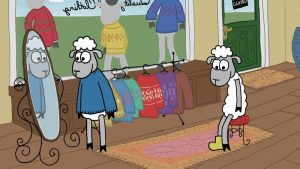 The Sheep Shop
0:03:17 (Netherlands) Jorn Leeuwerink – English
Grandmother Sheep sells woollen sweaters at her shop. But where does the wool come from?
Animation, Short Film, Student
They Call Us Maids – the Domestic Workers' Story
0:07:00 (United Kingdom) Leeds Animation Workshop – English
The true story of today's migrant domestic workers, women from the Philippines, Indonesia, North Africa and South-East Asia, who go abroad to support their families. Told in vivid, hand-painted animation.
Website: http://leedsanimation.org.uk/films/maids.html
Animation, Documentary, Short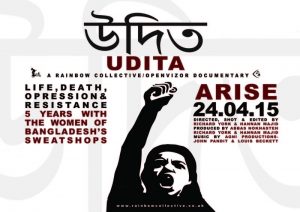 UDITA (ARISE!)
1:12:00 (United Kingdom) Richard York, Hannan Majid – Bengali
Immediate and viscerally affecting, 'UDITA' follows 5 years in the lives of the women at the grass roots of the garment workers struggle in Bangladesh. From 2010, when connection to a union would lead to beatings, sacking and arrests; through the tragedies of Tazreen and Rana Plaza, and to the present day, when the long fight begins to pay dividends. This vital period is seen entirely through the eyes of the female workers; the everyday life of young mother Nargis; the anguish of grandmother Razia losing her family in the Rana Plaza disaster and the the hope offered by firebrand leader Alia leading thousands of women onto the streets of Dhaka.
Trailer: https://youtu.be/x3NxWdPTToQ
Documentary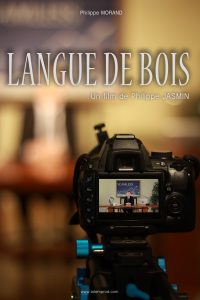 Wooden Tongue
0:04:30 (France) Philippe Jasmin, Philippe Morand – French
A big boss is recording a video to reassure his employees about the future of the company when a stubborn cough makes the performance difficult.
Trailer: http://www.totemprod.com/realisations/films/langue-de-bois
Short Film