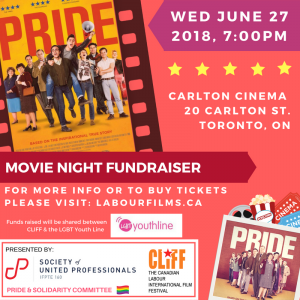 Join us on Wednesday June 27th, 2018 for a special screening of the movie Pride at Carlton Cinema in downtown Toronto!
This special fundraising screening is being organized by the Society of United Professionals' (SUP) Pride & Solidarity Committee in collaboration with the Canadian Labour International Film Festival (CLIFF).
PAY WHAT YOU CAN! All the funds collected will support and be split between the Canadian Labour International Film Festival and the LGBT Youth Line. Bring all the friends, family, and labour allies you want!
**The first 25 people to purchase their ticket will receive a voucher for a free popcorn and drink!!**
And if you can't attend, please consider purchasing a ticket and we can donate it to a community member! Just let us know!

Doors open at 6:30PM and film starts at 7:00PM. For up to date information, please check out our Facebook Event Page.

Email us at: info@labourfilms.ca for any questions.
Pride (2014) is a critically-acclaimed comedy/drama based on a true story. The film depicts a group of UK lesbian and gay activists who worked to help miners and their families affected by the lengthy miners' strike in 1984. This is an inspiring story that highlights the importance of solidarity between unions and social justice movements, and the absurdly funny bits that might crop up as the two learn about each other!
About LGBT Youth Line

The Lesbian Gay Bi Trans Youth Line exists to provide service for youth, by youth that affirms the experiences and aspirations of lesbian, gay, bisexual, transsexual, transgender, 2-spirited, queer and questioning youth in Ontario. Working within an anti-oppression and anti-racist framework, we provide leadership opportunities, outreach, confidential peer support and referrals by telephone, texting and online. Visit
their website here
.